Dear Hobbyist,
We will like to share information on parasite treatment from EIHO medication series that is suitable for senstive fish (discus, altum angels, monster fishes)
EIHO Prazi-Gold
Treatment for Internal Parasite (Flukes, Tapeworm, Flatworm)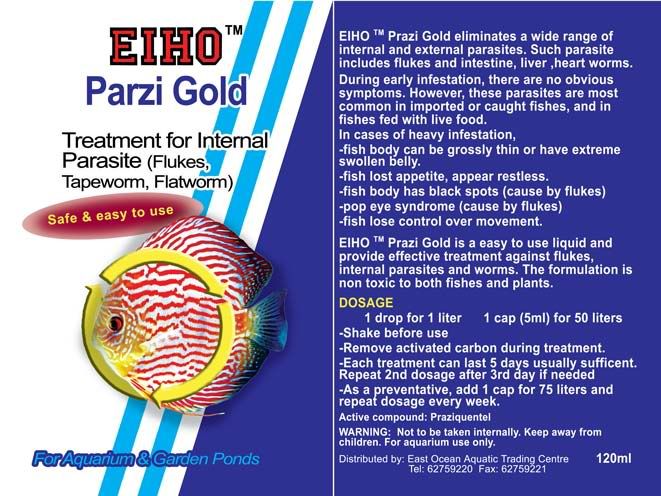 EIHO Prazi Gold eliminates a wide range of internal and external parasites. Such parasite includes flukes and intestine, liver ,heart worms.
During early infestation, there are no obvious symptoms. However, these parasites are most common in imported or caught fishes, and in fishes fed with live food.
In cases of heavy infestation,
-fish body can be grossly thin or have extreme swollen belly.
-fish lost appetite, appear restless.
-fish body has black spots (cause by flukes)
-pop eye syndrome (cause by flukes)
-fish lose control over movement.
EIHO Prazi Gold is a easy to use liquid and provide effective treatment against flukes, internal parasites and worms. The formulation is non toxic to both fishes (including plecos and rays) and plants. Do not affect beneficial bacteria.
DOSAGE
1 drop for 1 liter 1 cap (5ml) for 50 liters
-Shake before use
-Remove activated carbon during treatment.
-Each treatment can last 5 days usually sufficent. Repeat 2nd dosage after 3rd day if needed
-As a preventative, add 1 cap for 75 liters and repeat dosage every week.
Avaliable in 120ml, 250ml and 500ml
EIHO Metro Cure
Treats hole-in-the head, clown fish disease, marine whitespot, early dropsy.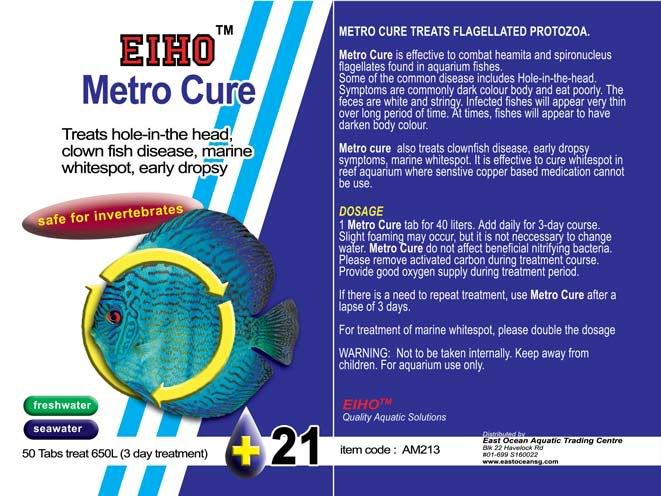 Metro Cure is effective to combat heamita and spironucleus flagellates found in aquarium fishes. Some of the common disease includes Hole-in-the-head. Symptoms are commonly dark colour body and eat poorly. The feces are white and stringy. Infected fishes will appear very thin over long period of time. At times, fishes will appear to have darken body colour.
Metro cure also treats clownfish disease, early dropsy symptoms, marine whitespot. It is effective to cure whitespot in reef aquarium where senstive copper based medication cannot be use.
DOSAGE
1 Metro Cure tab for 40 liters. Add daily for 3-day course. Slight foaming may occur, but it is not neccessary to change water. Metro Cure do not affect beneficial nitrifying bacteria, is non toxic to both fishes (including plecos and rays) and plants. Please remove activated carbon during treatment course. Provide good oxygen supply during treatment period.
If there is a need to repeat treatment, use Metro Cure after a lapse of 3 days.
For treatment of marine whitespot, please double the dosage
Avaliable in 50tabs
thank you for the reading through.